Snowflake: A modern data platform, built for any cloud
Create great customer experiences with your data
Scale up, down or out automatically and without disruption. Handle any scale of data, workload and concurrency your applications and customers need.
Reduce costs with per-second pricing
Unlink traditional data warehouse solutions, Snowflake's cloud-build data warehouse-as-a-service makes analytics and budgeting easy. You pay only for what you use.
Make better, quicker business decisions
Snowflake's unique architecture simplifies the data pipeline and eliminates complexity. Business users get self-service access to all the data and insights possible.
From a single platform, Snowflake enables:
A Modern Data Warehouse
Augmented Data Lakes
Secure Data Exchange
App Development
Advanced Data Science
Integrated Data Engineering

Thinking of moving to the cloud or modernising and reinventing your data platform? Acumen can help.
Any Cloud: You can move your data to any cloud in any region, without having to re-code your applications or learn new skills.
Near-Zero Management: Snowflake automatically handles infrastructure, optimisation, availability, data protection and more, so you can focus on using your data, not managing it.
Pay Only for What You Use: Say goodbye to upfront costs, over-provisioned systems or idle clusters unnecessarily consuming money.
Compelling Performance: Snowflake processes queries and tasks in a fraction of the time conventional on-premises and cloud data platforms require. All operational states maintained within the services layer happens without impacting performance since each workload has its own, dedicated compute resources
Any Scale of Data, Workloads, and Users: Snowflake's architecture is perfectly suited for any workload you can throw at it. It automatically scales to support any amount of data, workloads, and concurrent users and applications, without requiring data movement, data marts or data copies.
Diverse Data: Snowflake can support all of your business data, whether from traditional sources or newer machine-generated sources, without requiring cumbersome transformations and trade-offs.
Failover and Business Continuity: Replicate data across cloud regions, across cloud providers, and keep data and apps where they are while operating confidently with failover and business continuity.
Qlik and Snowflake: Automate, modernise and scale Data to Insights
Qlik Replicate continuously ingests data from multiple data sources to Snowflake with zero downtime and minimal impact on production systems. Download the datasheet
Qlik Compose for Data Warehouses automates the design, implementation and management of your snowflake data warehouses and data marts while minimising manual, error-prone ETL coding and scripting processes. Download the datasheet  
Qlik Data Catalyst helps your users easily find, understand, and publish data sets that combine Snowflake and any other relevant data for use in Qlik Sense, Tableau, Power BI, and other analytic applications. Download the datasheet
Qlik Sense empowers users to freely search and explore Snowflake data to make powerful discoveries and uncover hidden insights query-based tools can't access. Download the datasheet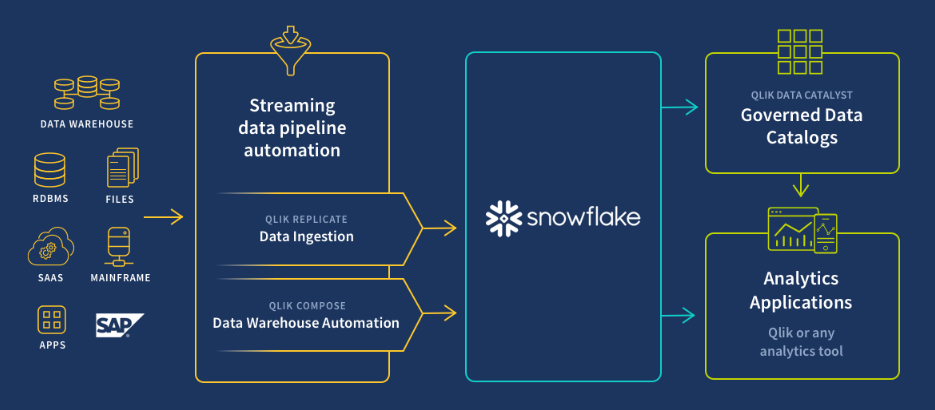 Ready for the next level?
Start our conversation now and change how you do business
IT'S BUSINESS TIME