Qlik Advanced Analytics Starter Package

Increase the value of your machine learning algorithms
Many organisations are making significant investments in data science and advanced analytics. However, it is not enough to provide static output that is pre-computed based on known questions – end users need a means to interact with and explore the results of advanced models based on their unique situations.
Do you have Qlik?
Organisation's that are using Qlik Sense are likely to also have staff within the organisation creating predictive models with R and Python. The challenge is how do you deploy these models to a wider audience and ensure the full value can be realised? With the Qlik Advanced Analytics Server Side extension you already have the ability to set up an integration between Qlik and R /Python which can put the power of these models at the finger tips of your Qlik users. The good news is there is no extra software cost!
Are you wondering how to get started with Qlik and R or Python Integration?
The challenge is while the software is available to integrate these technologies many Qlik customers are not yet making the most of this capability. In just 5 days the Acumen Advanced Analytics Starter Pack (For R integration) will kick start you on this journey.
Acumen Advanced Analytics Starter Pack (For R integration)
Acumen are offering a starter pack to help organisation's kick start their interactive reporting capability of Qlik Sense together with the analytics capability of R.
This covers Acumen supporting you to:
Install the server-side components in your development environment
A day's workshop covering an overview of the integration, example use cases, important concepts, live demonstration and hands-on exercises where you can deploy R models in Qlik Sense
Understand the essential syntax structure for creating your own R queries in Qlik Sense
Define an appropriate use case and start building your first proof-of-concept Qlik Application with Advanced Analytics Integration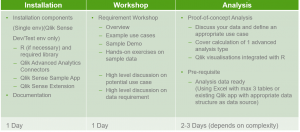 Ready for the next level?
Start our conversation now and change how you do business
IT'S BUSINESS TIME